January 21, 2023
At the Semi-Annual membership meeting CARDA awarded Wayne Behrens the 2023 Lifetime Achievement recognition.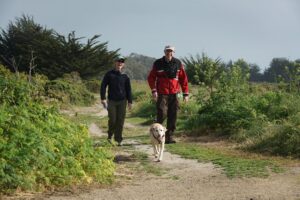 Wayne Behrens has been involved in various types of Search and Rescue (SAR) since 1972. Initially searching for lost aircraft with the Civil Air Patrol. In 1986 he joined the Bay Area Mountain Rescue Unit (BAMRU). In 1991 he also joined the California Rescue Dog Association (CARDA) and certified his first dog, Sierra in Sept 1993. Since then, he has certified 3 other dogs, Lindsey, Penny and most recently Scout. Wayne over his 30+ years of Search and Rescue experience has taken part in hundreds of searches assisting dozens of agencies in searches for missing persons in California.
• Member:
o Bay Area Mountain Rescue Unit (BAMRU) San Mateo County Sheriff
▪ Field Member
▪ Former Unit Leader
▪ Former Operations Leader
o California Rescue Dog Association (CARDA), Governor's Office of Emergency Services
▪ CARDA Training Group Leader
▪ CARDA Evaluator
▪ CARDA Veteran Handler
o Yosemite SAR Dogs (YODOGS)
▪ Co leader and founding member
CARDA Lifetime achievement: This annual award also recognizes a member or members who exemplify what it means to be an outstanding CARDA member and has also made significant contributions to CARDA's success over an extended period of time.