Proud history of CARDA service on County Sheriff Search and Rescue teams
In California, the Sheriff in each of the 58 counties is responsible for search and rescue (SAR) operations. We are proud to field canine search and rescue teams across 29 counties (see map below) – and assist from the beginning of the search operations. As of 1/1/2023 there are 176 County Sheriff search and rescue team members who are also members of CARDA. Of those 176 who are on sheriff search and rescue team rosters, 107 are currently working certified dogs and additional 41 dogs are in training for certification.
Often the fastest resource for county mutual aid might be a neighboring County SAR resource. Such resources may be dispatched via OES request, or, if there are county to county mutual aid agreements in place may be called directly from one SAR unit to another. Having the correct resources in place in early operational periods may make all the difference in search strategy and operational success.
Annual number of searches where CARDA affiliated canine resources were deployed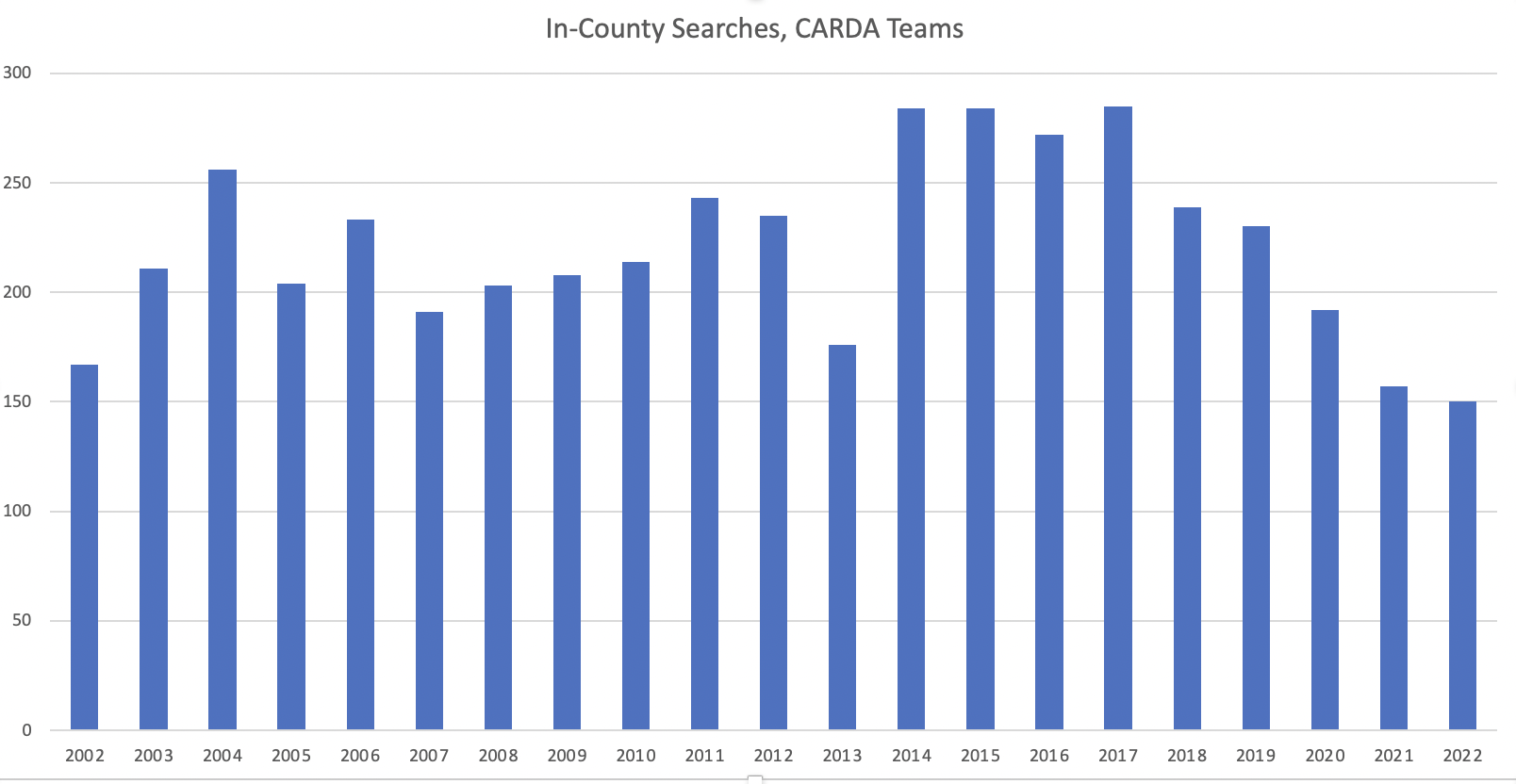 As of 1/1/2023 CARDA has 176 resources on 29 County teams tested to CalOES certification standards in:
Trailing (ground scent)
Air Scent/Area
Water human remains recovery
Surface and buried human remains
Avalanche
Geographical distribution of CARDA members on county sheriff search and rescue teams. Hover, or click on County for details
---
Choosing the right canine search and rescue resources
Choosing the right K9 SAR resource for a missing persons case can be daunting. Please review our videos on the home page for demonstrations of their specific skillsets. The Center for Forensic Training & Education has an excellent online course to train agency first responders on the most effective use of Search and Rescue K9s.
Alphabetical listing of county sheriff search and rescue teams represented by CARDA members.
Linked to Search & Rescue team websites, where available