January 21, 2023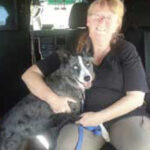 At the semi-annual CARDA membership meeting, Lisa Kirk was recognized for her contributions with the 2023 CARDA Larry Peabody Award.
Lisa Kirk joined in 2009 and has held the Board Secretary position as well as leadership of Newsletter Committee, and contributions to Dispatch and Training/TGL committee.
CARDA Peabody Award: This annual award recognizes an outstanding member who exemplifies what it means to be a great representative of and contributor to CARDA.