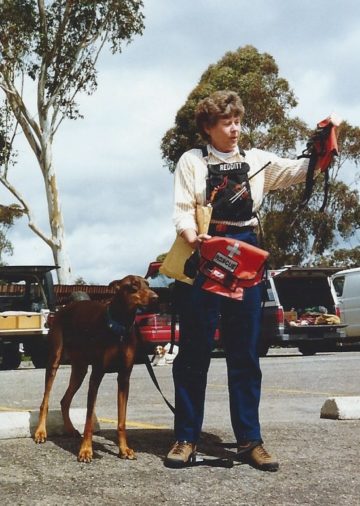 Rosemary learned her skills as a wilderness searcher through the San Diego County Sheriff's Search and Rescue Bureau where she served for 38 years.  For many of those years Rosemary served as lieutenant for the canine unit.  She joined CARDA in 1989 and remained a CARDA member for 17 years.  During those 17 years she, together with her dogs, responded to nearly 100 searches.
Rosemary had a great love for Doberman's.  Her dogs, Katie, a red female and Berry, a red male, were well known throughout the SAR community.  They deployed on wilderness searches, cadaver searches, and water searches.  Berry and Rosemary also volunteered countless hours visiting hospice patients.
As a retired teacher, Rosemary was generous in sharing her knowledge with less experienced handlers. She traveled extensively through state participating in searches and training and testing new handlers.
Rosemary will always be remembered for the good she did in the world and for inspiring others to do the same.