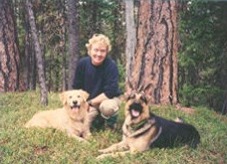 Rita and her husband Dave started out in the search world by joining Wilderness Finders (WOOF) in 1980/81. Dave dropped out after a year to run the family business. Rita continued in WOOF and then joined CARDA in 1984. She was a skilled handler and dedicated searcher, one who always made time to advise novice handlers on improving their skills. Rita was convinced that handlers needed more training than the dog and was fascinated with dogs scenting ability.
Rita's first K-9 was Ego, a large golden retriever, who was a hard working certified wilderness search dog. Ego was trained and certified for water, cadaver, and evidence search. Rita's next project was to train Mason, a german shepherd, who suffered from a skin disease and had a short career. Her next dog was Radar, a special guy. A rather small golden retriever with a big heart and a love for search work. Radar is retired and lives with husband Dave and his new family on 30 acres in the South Oregon.
There is pride that son Dan is actively involved in search and rescue work. Daughter Cathy joined CARDA and trained her GSD until she moved out of state. Cathy is still involved in dogs as a professional trainer. So a little bit of Rita's joy in dogs is carried on by her children.