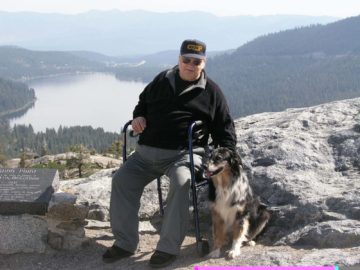 Larry Peabody was one of the earliest members of CARDA and our only full-time dispatcher until November 2005. During his 28 years, he was on call 24/7/365 and he dispatched search dogs teams to over 6000 requests from law enforcement, fire departments, FBI, ATF and DOJ.
CARDA is a large organization, with members spread throughout the state, but everyone in CARDA knew and depended on Larry. He took care of us all. One of the special touches Larry added to his job was to keep the families of the searchers informed. Larry understood how stressful it is on our families when we are called out on a search. He knew because he thought of us all as his family and he worried about us, too. So he kept our families apprised of the status of the search, as well as our estimated time of arrival back home. Not only did all CARDA handlers know the sound of Larry's voice (at any hour) but our families also knew the warm voice of the friendly CARDA dispatcher.
Larry never seemed to sleep; he would answer the phone at any hour ready to dispatch a search. He was also there in the middle of the night when you needed someone to talk to about a sad or frustrating search. And he never forgot to pass along a kind word that the requesting agency had said about you. Along with his dispatching job, Larry was also responsible for CARDA's paging system and served on the radio committee. Larry loved his job and he made ours possible.
In 1985, Larry's skilled techniques and know-how made it possible for CARDA handlers to respond to the Mexico City Earthquake, our first responce out of the country. He arranged everything with one call; teams were at the air base and deployed within hours.
He had 2 Aussies, Runner and Bullet, that were his constant companions. After their too soon deaths, he got another Aussie, Taos. Larry is survived by his wife, Bev (who is still active in search) 6 boys, 10 grandchilden, and 4 great-grandchildren.
We always felt safe and taken care of on a search because we knew Larry would not stop until he knew we were home safe. In honor of Larrry's years of service, his identification number "CARDA 100" has been retired. Thank you Larry, for so many years of service, caring, and dedication to search and rescue… so that others may live.