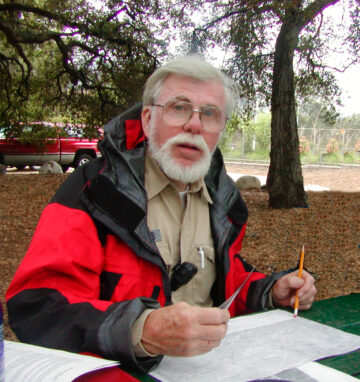 Jerry Newcomb, a recipient of CARDA's Lifetime Achievement Award, was a member of CARDA for 35 years.  He responded to numerous searches, helped draft CARDA's first set of trailing standards, served as an evaluator and guided many new teams through the process of becoming fully qualified.
Jerry came to CARDA with 15 years of experience in search and rescue.  He joined Sierra Madre Mountain Rescue in the early 1970's and subsequently trained a bloodhound in affiliation with the National Policeman's Bloodhound Association.  In 1985, he formed the Los Angeles Sheriff's Dogs unit where he functioned as the primary team leader and Search Manager for the unit, which averaged over 60 searches per year in LA County alone.  When he joined CARDA in the early 1980's he became CARDA's first trailing team.
Jerry was a mentor and model for other members.  He emphasized the importance of focusing on the missing person and of team performance and cohesion over individualism.   He encouraged teams to continuously challenge themselves as well as to understand their limitations.   He earned respect for his steady, selfless, high-quality performance in every aspect of search and rescue.
CARDA will always be grateful for Jerry's generosity, humility, leadership and wisdom.