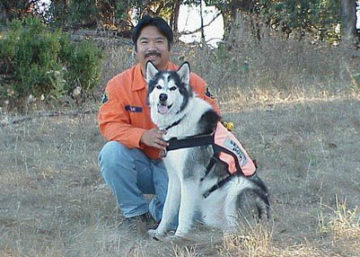 Daryl Lee, CARDA 394, passed away on November 25, 2017 after a battle with cancer.
Daryl had been a search and rescue volunteer for CARDA and for the Alameda County Sheriff's Search and Rescue team.  Together with his dog, Kaze, he went on searches throughout California.  He searched in Fresno, Tuolumne, Sonoma, Merced, Santa Cruz, Marin, San Mateo, Calaveras, El Dorado, Contra Costa and Alameda counties as well as in Sequoia Kings National Park.
Daryl's dog, Kaze, was the first (only?) Mission Ready Alaskan Malamute in CARDA.  Daryl and Kaze, who saved at least one life, were featured in the show "Dogs With Jobs".  Kaze was also Daryl's lead sled dog. Kaze would have done anything for Daryl, and Daryl would have done anything for Kaze. They were a search and rescue team in every sense.
Daryl was known for his sense of humor, love of adventure, strength, confidence, courage and passion for helping others. He worked for Habitat for Humanity, where he loved to be part of making a real difference. He, along with his family, also had a longstanding involvement with various nordic breed rescue groups.
Although Daryl has left this world he will never be truly gone because he inspired his friends and family to continue his good works. He will be deeply missed and never forgotten.